Millennium Luxury Coaches proudly took part in the FMCA's 60th anniversary Convention & RV Expo, held at Cam-Plex in Gillette, Wyoming from August 23rd to 26th, 2023. The event was a hub of excitement, featuring RV displays, exhibits, educational seminars, entertainment, member gatherings, chapter events, and the camaraderie of camping with friends.
Our presence at this remarkable event had a specific goal: to educate and introduce the Prevost product to a broader audience. We were also keen on nurturing the next generation of Prevost owners. As specialists in luxury motorcoaches, Millennium Luxury Coaches showcased the epitome of modern design and innovation.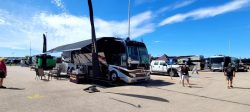 With 20 years of experience, Millennium Luxury Coaches has established a legacy of designing and building the most technically advanced, reliable, and user-friendly luxury coaches globally. Our commitment to exceptional craftsmanship and innovative designs has positioned us at the forefront of the industry.
Millennium Luxury Coaches' presence at the FMCA event was a testament to our dedication to luxury motorcoaches' excellence. We're proud to have shared our passion and expertise with attendees, contributing to the event's overall success.